2023 Jeep Compass: Performance, Luxury, Trims

The 2023 Jeep Compass is a compact crossover SUV that can conquer broken terrain and comfortably seat the whole family. The vehicle has various trim levels and colors, allowing you to customize your new Jeep Compass. We do not yet know everything about the forthcoming 2023 model of this dynamic car, but this article will lay out all of the details we have and the assumptions that we can make based on the current iteration of the Jeep Compass.
2023 Jeep Compass Performance
While Jeep automakers have not yet announced what engines will be in the new 2023 Jeep Compass, we expect that the available options will include the same ones found in the 2022 model. The 2022 version of the SUV features a 2.4-liter inline-four that makes 177 horsepower and 172 pound-feet of torque. It comes with a six-speed automatic transmission and front-wheel drive, though 4×4 is standard on some trims and available on others.
This engine does a fantastic job of balancing power and efficiency. It gets an EPA-estimated 22/31/25 MPG (City/Highway/Combined)1 and an EPA-estimated 22/30/25 MPG (City/Highway/Combined)1 in a 4×4 configuration. The new Jeep Compass offers savings at the pump, but not at the expense of power. This rugged SUV can tow up to 2,000 pounds,2 allowing you to bring the family boat or pop-up camper along for a weekend getaway.
One exciting possibility for the 2023 model is that of new powertrains. The Jeep brand already sells a plug-in hybrid iteration of the Jeep Compass in other world markets; we would not be surprised to see this powerful trim for the new American model. There is also the possibility of a mild-hybrid addition to the engine lineup; only time will tell.
2023 Jeep Compass Trims
Jeep automakers have not yet detailed the trim lineup for the forthcoming 2023 Compass, so we will have to speculate based on the 2022 options, which are:
Jeep Compass Sport
Jeep Compass Latitude
Jeep Compass Latitude Lux
Jeep Compass Limited
Jeep Compass Trailhawk
Jeep Compass (RED)
Jeep Compass High Altitude
This wide variety of choices allows you to select the model with enough luxury features and cutting-edge technologies to meet your and your family's needs. We expect that the 2023 Jeep Compass will have a similar lineup of trims, though it may include the possible addition of a plug-in hybrid powertrain.
We're almost certain we will see the 2023 Jeep Compass Trailhawk. The Trailhawk trim is available on many Jeep vehicles and always denotes off-roading chops. The 2022 version boasts a special off-roading suspension, diamond-cut 17-inch wheels, and a sleek black-and-red hood decal. You'll have a great time conquering the trails in the new Jeep Compass.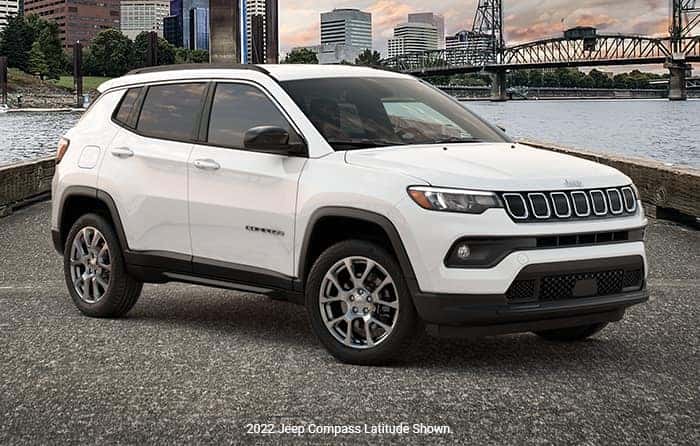 2023 Jeep Compass Interior
The Jeep Compass is known for its durability and off-roading capabilities. The inside of the car, however, is comfortable and full of luxury features. The base model of the 2022 version boasts keyless entry, a push-button start, and ergonomic seats that will help you stay comfortable on long drives. You can explore your options and check out our new Jeep Compass specials online or in person.
The Jeep Compass 2023 model promises to be yet another excellent Jeep vehicle. We look forward to learning more about it. However, if you can't wait until the 2023 Jeep Compass arrives, visit us for a 2022 Jeep Compass test drive or to check out our used Jeep Compass inventory.
FAQs
Is the Jeep Compass good in snow?
The Jeep Compass is a rugged vehicle designed for all sorts of tough terrain. It is well-equipped to help you navigate snowy streets, especially if you choose the available four-wheel-drive setup. The SUV's off-roading chops are not a substitute for safe driving or proper maintenance, but together they can help you stay safe in the winter.
How far can a Jeep Compass go on a tank of gas?
The EPA estimates that the Jeep Compass can travel 338 miles on a single tank of gasoline.1 For the record, its tank stores 13.5 gallons. Of course, you don't want to drive the vehicle until it dies, so pay close attention to your dashboard warnings, but it's nice to know that you can easily cross the nearest state line without having to stop for fuel.
How much can the 2023 Jeep Compass tow?
The Jeep Compass can tow up to 2,000 pounds.2 This holds true across the different drive modes available for the vehicle. The towing capacity of the Jeep Compass allows you to bring the family camper, boat, or jet ski along for a weekend getaway. However, if you are looking for a real heavy hauler, you might want to consider a Jeep Gladiator.
---
1EPA estimated 25 combined mpg with 2.4-liter inline four-cylinder and six-speed automatic transmission. Actual mileage may vary.
2When properly equipped. See dealer for details.