JEEP® Grand Cherokee Accessories & Parts
---

A good thing can be made better when it comes to Jeep® Grand Cherokee accessories. You've already purchased or leased a legendary family vehicle. But now, it's time to take things to the next level, especially if the next level means mountain tops and Jeep® Badge of Honor trails. First things first, let's make sure you've got the new Jeep® Grand Cherokee of your dreams. From there, we'll get ready to unlock your vehicle's true potential.
What Are Some Must-Have JEEP® Grand Cherokee Accessories?
---
It doesn't take long to discover that when you drive a model from our new Jeep® inventory, you open the door to an endless world of customizations, modifications, and accessories. The only challenging part is keeping track of everything available to you. That's why our vehicle specialists have put together a lifestyle guide to help you sort through most of what's available.
Like to Play Outside? Protect Your Interior –No matter what you do in the great outdoors, you'll need to protect your interior with a set of all-weather Jeep® Grand Cherokee floor mats. Mud, snow, sand, and kids' snacks are all well contained by this essential accessory. Pull 'em out, hose 'em off, and get back out there!
Work or Play—Stowe & Go –Whether you're a tradesperson, explorer, or weekend warrior, you probably have an endless supply of things you might need to bring along. Did you know that we have Jeep® Grand Cherokee interior accessories designed to keep all your belongings securely in place? We have cargo area solutions, floor-space solutions, and even seat-back storage solutions that will make your Jeep® Grand Cherokee feel like the true utility vehicle that it is. Do you need something specific? Just ask, and we've surely got it.
Raise the Roof – Raise your vehicle's ground clearance by one to five inches with our lift kits that use genuine Jeep® OEM accessories. Keep your car looking great and your warranty still intact. Let our off-road specialists know what you're planning to do so that you can get the right gear for your next adventure.
Can't Fit it Inside? Store it Outside – Items like bikes, kayaks, snowboards, and other seasonal toys might squeeze inside your truck. But why? Check out our Jeep® Grand Cherokee Colors Guide and see just how cool our external storage systems look on a vehicle like yours. We've got racks, boxes, baskets, and even trash storage solutions. If you can dream it up, we've probably got it.
Better Safe Than Sorry – If you live by the creed of "it's better to have it and not need it than to need it and not have it," our parts department has your back. They can give you a list of all the spare Jeep® Grand Cherokee parts that you'll need to take on the toughest trails ahead. Ask about our custom heavy-duty front bumpers.
Did You Know You Can Tow? – If you've got the big-body Jeep® Grand Cherokee, then you might love some of the added confidence our Jeep® Grand Cherokee L accessories will give you. From towing, hauling, or escaping into the unknown, we've got loads of accessories to make life on (or off) the road easier.
Maybe you don't have your Jeep® Grand Cherokee yet, but you've always wanted one. Or maybe you're looking for an ideal vehicle to get started with that will leave you enough money in your budget for the Jeep® Grand Cherokee accessories you've been wanting. If that's the case, one of our used Jeep® Grand Cherokee SUVs might be your ticket. Get the model you want with lots of savings to pad your accessory budget.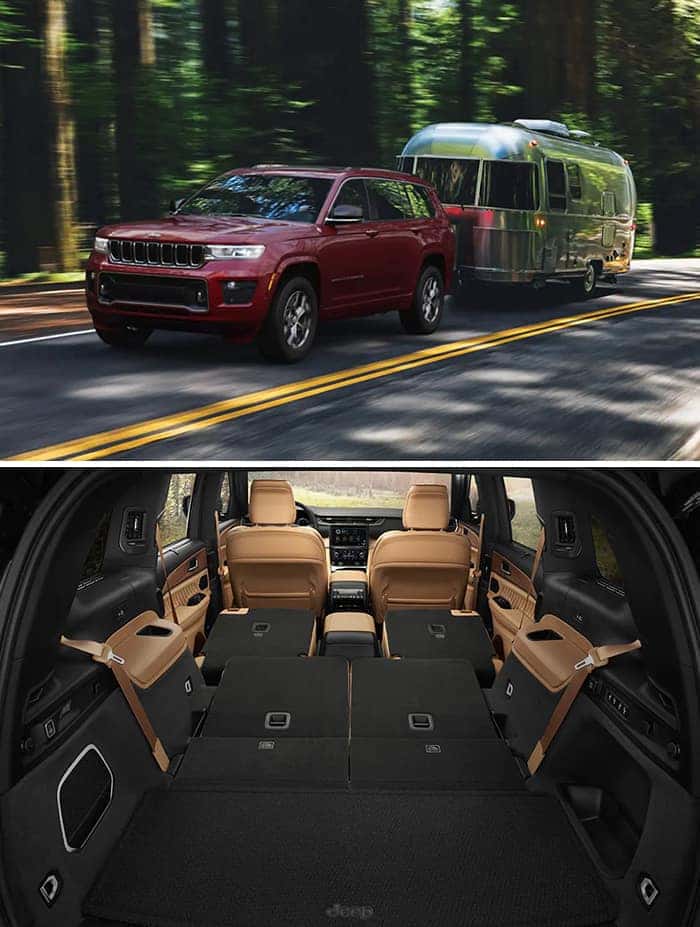 JEEP® Grand Cherokee Accessories for All Model Years
---
Get the latest 2022 Jeep® Grand Cherokee accessories for the newest members of the Jeep® Grand Cherokee family. If you have an earlier model, make sure to ask for our entire catalog of Jeep® Grand Cherokee accessories, 2021 and earlier.
With so many cars and accessories to choose from, the most difficult task might be deciding between a classic or something from the new lineup. If that's the case, you may want to satisfy both needs. Trick out an early Jeep® CJ7 for those weekend adventures with the fam, and keep your eye out on the 2022 Jeep® Grand Cherokee L release for those family trips to the market.
Do Some Research On Other Jeep Models Available:
---